Do you remember how your mom used to say "Better safe than sorry"? Well, as we approach the end of the year, I strongly suggest that you take a better-safe-than-sorry approach with your LinkedIn profile and related information. 
Here are three simple steps you can take to safeguard your LinkedIn account, because occasionally "stuff" happens, and you don't want to lose your profile or your network and have to start from square one.
.
Download Your LinkedIn Data
Just follow these four simple steps:
1.  Scroll over your small photo (or headshot icon if you don't have a photo) on the right side of your top toolbar.
2.  Choose Privacy & Settings from the drop-down menu that appears under your photo.
3.  Click the Account tab near the bottom of the page.
4.  Under the Helpful Links section, choose Request an archive of your data.
That's it. Within 72 hours, you'll receive a file from LinkedIn. It will be sent to the primary email listed in your LinkedIn account.
You'll obviously find some of the information to be more useful than others, but I can assure you there are some real gems in here. You'll receive:
Account information
.
Registration information
Login history, including IP records
Email address history
Other information
.
The current name on your account and any previous name changes
A list of your 1st degree connections. You'll receive first name, last name, current title, current company, and primary email address
Photos that have been uploaded to your account
Endorsements you've received
A list of the skills on your profile
Recommendations given and received
Group contributions
Your search history
Content you've posted, shared, liked, or commented on
Mobile apps you've installed
Ads you've clicked on
The targeting criteria LinkedIn uses to show you ads


.
Change your password
You never know when LinkedIn might have a password debacle like the one that affected over six million accounts a few years ago. Do this one now!
Click Privacy & Settings, which pops up when you scroll over your name on the top right of any LinkedIn page. After you enter your password, you will be taken to the Settings page. Select the Account tab and then choose Change password.
.
Save Your Profile
If for any reason your profile is partially or totally deleted, you can quickly restore it if it's been properly saved. The saved version is also a handy summary to share with people when you need a quick resume.
Click Profile on your top toolbar. Near the bottom of your top box, scroll over the arrow that's just to the right of the dark blue View profile as button.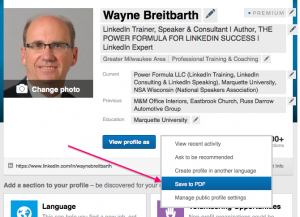 From the drop-down menu, select Save as PDF. You will get a PDF version of your profile (minus your photo and any uploaded media) that you can print and, more importantly, save.
By the way, you can do this for any profile, not just your own.
Now you can rest peacefully, knowing your LinkedIn account is securely backed up--and you've heeded your mother's better-safe-than-sorry advice.