LinkedIn loves to help you celebrate your birthday, work anniversary or job change—but what does this LinkedIn love look like?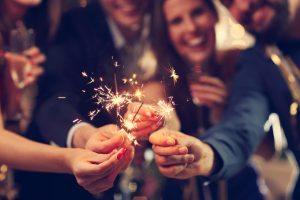 By a high priority notification, LinkedIn drives many of your connections to your LinkedIn profile. And because profile views, especially from the right folks, often lead to good things, this is an awesome gift from LinkedIn.
Of course, now you're wondering, what can I do to take advantage of the upcoming celebration?
.
Before the celebration
Get your profile ready for visitors. Be sure your Headline, Summary (especially the first 200 characters), your Current Job Experience entry, your Education entries, and your Accomplishments sections are up to date and document the following:
.
Promotions and additional responsibilities
Specific job-related results and projects
Specific industry courses, certifications and degrees
Honors and awards
Leadership positions in industry-related organizations
Consider writing a long-form post on LinkedIn to share your latest thoughts on current events at your company and/or in your industry.
Like, share or comment on important updates from influential people or industry associations.
.
During the celebration
When people take the time to congratulate you, be sure to not only say "thanks" but also assess whether setting up a phone call, meeting, or sending an email or LinkedIn message could lead to a mutually beneficial relationship in the future.
.
After the celebration
For a week or so after the event, review your "Who's Viewed Your Profile" listing and message feed often, and send a note to anyone who has congratulated you and might be able to help you accomplish your goals in the future.
.
There you have it—easy ways to turn your big day (birthday, job anniversary or job change) into a positive networking event.
If you'd like to learn about other simple LinkedIn strategies to advance your business or career and receive an in-depth critique of your LinkedIn profile, sign up for a one-hour one-on-one consultation with me for only $175. Book your personal session at
https://calendly.com/waynebreitbarth/special1on1linkedinconsult.