Can you believe it? LinkedIn has changed your profile AGAIN! If you haven't received the new profile yet, you will see it soon.
This is the second change in less than a year. And although the changes aren't as far reaching as last year's changes, there are some critical revisions you should make to address these changes.
The changes are only in what I call the top box, which is what people see when they first look at your profile (before scrolling down). That's why you should address these changes as soon as possible.
Here is my review of each of the changes and a suggested action step for that change.
Your profile photo has moved from the center to the left-hand side.
Action step: If you have a custom background, you may have to redo it so your photo doesn't cover important information.
Your headline and your location have been moved from the center to the left-hand side.
Action step: I don't have any specific suggestions regarding this, but, as in the past, make sure you have a great headline. Click here to download my free resource The Definitive Guide to Optimize Your LinkedIn Profile Headline.
Your current company name and logo, along with your university name and logo, have been moved from the bottom of the top box to a higher position on the right-hand side.
Action step: These two entries will be noticed more often now, so make sure your company has uploaded its logo on their company page because that logo gets carried over to your profile.
Also, if you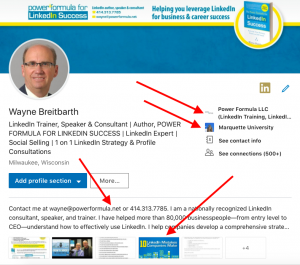 have multiple current job entries, be sure they're in the right order. Use the reorder icon to rearrange them.
When it comes to the university entry, make sure the first university entry you have listed is the one you want to carry up to this prominent spot. You can also rearrange your education entries by using the reorder icon.
Your intro to your Summary (the portion that shows up prior to the viewer clicking Show More) has been expanded from about 200 characters to about 290 characters.
Action step: This is great news. You now have a 45% expansion of this important section, so use it well to grab your reader's attention or share additional important information. If you want to make it easy for the reader to contact you, consider adding your phone number and/or your email address in this prominent space.
Any media you've uploaded or linked to not only from the Summary section but from your Job Experience and your Education entries will be highlighted more prominently, encouraging your viewers to check them out.
Action step: Take advantage of this improved position for some of your very best documents, videos, Power Points, and links to your website. Show the reader why you're the best at what you do and how you can help them. Click here to read an article I wrote about how to add media to your profile.
That's it. Again, there aren't a lot of updates, but because they're all at the very top of your profile, it's important to make your revisions ASAP.
SPECIAL OFFER: With these important profile changes, this would be a great time for you to take advantage of the $175 special I'm running.
In addition to my detailed critique of your profile, I'll spend a full hour on the phone with you and share my computer screen. We'll focus on your business and career goals and discuss how to spend your time effectively on LinkedIn. Click here to book your slot.
Here's what a recent client said about her session:
"I highly recommend Wayne's 1:1 LinkedIn coaching session. Per Wayne's guidance, I reached out to the SVP of Client Success for a company I saw a suitable role. I used language Wayne provided in our 1:1 session to initiate the contact. The SVP responded within an hour, stating they are looking for someone in the Chicago market, that he liked my background, and that I should email him once I apply so he could ask the recruiter to reach out to me. Since then I've had an initial interview and interacted with the SVP multiple times, adding a valuable contact to my network. Wayne, thanks for giving me the tools I needed to move a little further outside my comfort zone and amp up my networking."
Get your slot booked with me now by clicking here. I have a limited amount of these slots at the $175 special price.