This week I spoke to a number of college audiences. When I told them about that warm, fuzzy feeling people have for fellow alumni, many of them just didn't get it. I guess it's one of those things you need to experience and not just talk about. The first time they see a door open for them in the business world as a result of that common bond, they'll probably say,
Hey, Wayne was right
!
LinkedIn's recently enhanced Alumni feature is the perfect place to begin new relationships with people who have walked the same hallowed halls. You won't believe the incredible things you can now do with this feature.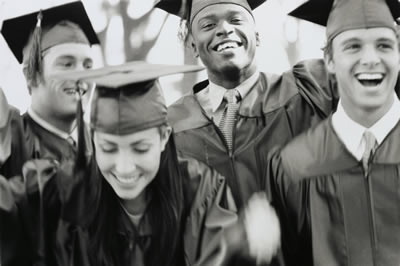 There are two ways to access this feature. Click Contacts on the top toolbar, and then scroll down and click the name of any school you have listed on your profile--or you can just click the name of a school on anyone's profile. Yes, this means you now have access to the alumni of schools you didn't even attend! And we're not just talking colleges here. It works for high schools, specialty schools, etc.
Ca$h In On This Powerful Tool
Every school's Alumni page includes an awesome filtering system that helps you find the perfect fellow alumns to reach out to. Click the right arrow to gain access to all the filters.
The filters include:
Where they live
Where they work
What they do
What they studied
What they are skilled at
How are you connected
Once you have selected your filters, LinkedIn displays a mini profile for all individuals who meet your filtering criteria. Without leaving the page, you can send a message to any first-degree connections or use a personalized message to connect with anyone on the list. Pretty cool, don't you think? I am amazed that this is still free.
Some of the searching capabilities have always been available through Advanced People Searching, but it is much easier to do it here.
Initially you will see fellow alums who attended the school during the same years you were there. For schools you didn't attend, the default is 1900 to 2020. But you can put in any range you prefer.
If you've been looking for a way to sort people by age range, this is your ticket. If you sell products or services to a targeted age group, use the age range on the top right to find alumni who are probably in that age range. Granted, it isn't exactly an age search because not everyone gets an undergrad degree at age 22, but it should still provide some valuable information.
Use the
Search profiles
keyword box to really zero in on the right alumns to reach out to.
Attention Recent or Soon-to-be Grads
Use the Alumni feature to figure out who you might want to network with to help you find that first great job. This feature, along with some of LinkedIn's
additional profile sections
(Test Scores, Courses, Honors & Awards), will help you stand out from the crowd and discover the perfect job for you.
I think after you test drive the Alumni feature, it will become one of your favorites. And I love success stories. Let me know how reconnecting with fellow alums helps you and your business.