LinkedIn could quite possibly be the greatest tool you have to address all of the openings
you currently have at your company, and I don't mean just paying LinkedIn to post your open positions.
So how much time did you spend on the site last week taking advantage of the world's largest professional network with over 775 million members?
Don't feel like you're alone if you answered "very little time." I find that most people still don't know how to take advantage of LinkedIn to find and reach out to people who could be just the right fit for openings they have.
In this article, I will share with you some of the best strategies to do just that—and you don't need a premium LinkedIn account.
To learn all of my strategies for capitalizing on LinkedIn's recruiting potential, join me on Monday, November 15, from noon-1:30PM CT, for my webinar Using LinkedIn to Recruit Top Talent Without a Premium Account.
If you can't attend live, no worries, because you'll receive a link to view the recording at your leisure. Seating is limited, so grab your seat now at https://linkedinrecruitingfall2021.eventbrite.com
.
Four easy ways to recruit on LinkedIn
1. Individual Update.  Post an update to ask your network if they know of anyone who is qualified for the position you're attempting to fill. After all, this is your network, and the people in your network know you well and understand the nature of your company. If someone in your network is aware of a prospective candidate, he/she should be able to quickly introduce you to the candidate.
This is the easiest and most efficient way to find your next hire. That being said, I would not post this update every day, but try to limit this update to a couple times per week at different times of the day, maybe even once on the weekend.
To get additional exposure, ask a few of your most connected coworkers or friends to like, comment on, or share the post. That will get the post in front of their connections as well and increase your organic reach.
I know a president of a local company who found a new VP for his company in just five days after using the status update to ask his network for help. Think of the time and money that saved him.
2. Company Update.  On your company page, post a similar update. This shares the information with some of your company page followers. Job seekers interested in
working for your company are probably among your followers.
To get more viewers of this update beyond your company followers, ask all employees in the company to like, comment on, or share this update so their connections may see it as well.
Consider "pinning" your status update to the top of the update feed.
3. Company Followers.  Review the list of your company followers periodically to look for good candidates. Several HR directors have told me they found the exact right candidate (sometimes working for competitors) in that list of followers just waiting to be contacted.
If you are an administrator of your company page, you can view a list of your followers, in reverse chronological order of when they began following your company. Go to your company page, and just click the word followers next to your number of followers (see screen shot). If you find someone interesting, consider sending a connection request (or InMail) with a message asking them if they might be interested in a role with your company.
4. University Page.  Here you can find potential candidates who attended a specific school. Fellow alumni of the schools you attended is a good place to start.
Access this by clicking the name of one of the schools on your profile. Once you're on the university's page, click the Alumni tab.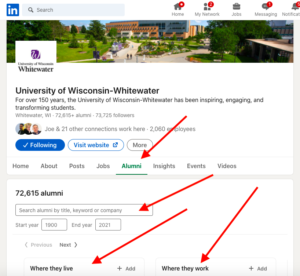 You can sort the individuals by:
.
Where they live
Where they work
What they do
What they studied
What they're skilled at
How you're connected
Reach out to qualified candidates about your job openings. Because most people have warm, fuzzy feelings toward fellow alumni, they'll probably respond to you if they're interested in a new job.
On Monday, November 15, I'll cover these strategies in-depth and many more. Join me, and be one of the smart companies that use LinkedIn to recruit and hire top talent without spending a dime.
Get more info about the webinar and register here: https://linkedinrecruitingfall2021.eventbrite.com