Connecting with people has always been easier when you know that they attended the same school you did. Those mutual warm, fuzzy feelings can open a lot of doors.
Personally, I've done a lot of business with fellow Marquette and UW-Whitewater grads whom I've found on LinkedIn.
The school(s) people attended are prominently displayed on their LinkedIn profiles, which means you can easily search for classmates. But then you can use the numerous filters on your school's Alumni page to laser focus your search for the perfect prospects.
Once you find those prospects, you'll want to reach out to them with a LinkedIn message (if you're already connected to them) or send a personalized invitation to join your network (if they're not already a first-level connection).
If you approach them in a friendly manner, mention that you're a fellow alumnus, and then nurture the relationship, there's a good likelihood that it could lead to your next client, job, employee, or other important business relationship.
Want more actionable strategies like this? Then join me for my upcoming two-hour virtual workshop Using LinkedIn to Generate a Steady Stream of Sales Prospects on December 13. Check out the details and register at https://linkedinsalesdec2021.eventbrite.com. And all registrants get a link to the recording, so you don't have to attend live to get the benefit of this workshop.
.
Step-By-Step Instructions for Using LinkedIn Alumni Page

1. In the large search box on your top toolbar, type the name of the school you're interested in. When it shows up in the drop-down list, choose that entry—or you can just click the name of a school on anyone's profile.
2. Once you're on the university's page, click the Alumni tab. This will take you to that school's Alumni page.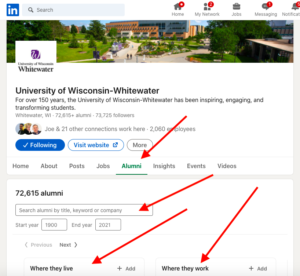 3. You can now filter the entire list by entering words in the Search alumni by title, keyword or company box, entering years in the Start year and End year boxes, or selecting or entering information into one or more of the six columnar filters which include:
.
Where they live
Where they work
What they do
What they studied
What they are skilled at
How you are connected
If you've been looking for a way to sort people by age range, this is your ticket. If you sell products or services to a targeted age group, use the Start year or End year filters on the top right to find alumni who are probably in that age range. Granted, it isn't exactly an age search because not everyone gets an undergrad degree at age 22, but it should still provide some valuable information.
4. Once you have selected your filters on the Alumni page by clicking the bars under your desired selections, LinkedIn displays a mini-profile for everyone who meets your filtering criteria.
Without leaving the page, you can send a message to any first-degree connections or use a personalized message to invite anyone on the list to join your network.
To learn more quick and easy strategies to improve your sales pipeline, join me on Monday, December 13, for my webinar Using LinkedIn to Generate a Steady Stream of Sales Prospects.