Wayne Breitbarth's five step process to grow your business using LinkedIn is amazing; download your copy now and watch him explain the steps
VIDEO 3: THE ULTIMATE STEP-BY-STEP PROGRAM TO GROW YOUR BUSINESS USING LINKEDIN
In this video you'll discover:
How to stop wasting time on LinkedIn and start getting measurable results
A step-by-step process you can use to dramatically catapult your sales
How you can get immediate access to more sure-fire strategies and tactics to skyrocket your sales and bury your competition
DOWNLOADABLE CHART:
The Five C's – Using LinkedIn to Grow Your Business
SCROLL DOWN FOR THE COURSE
LOTS of people spend LOTS of time on LinkedIn. But why are so few people getting any REAL results?
Because there can be no ROI from LinkedIn if you don't know how to use it!
Stop wasting your time doing things on LinkedIn that simply aren't generating identifiable business and start getting results NOW with Wayne Breitbarth's comprehensive, easy-to-use online course:
EXPLODE YOUR REVENUES Using LinkedIn
Everything you need to know to master the secrets of LinkedIn and Explode Your Revenues is now instantly available to you
in this one-of-a-kind course.
This course is NOT like other courses you've seen advertised.
You won't:
Listen to pre-recorded webinars
Get a bunch of worthless "extras"
Be limited to "LinkedIn 101" concepts
Instead, you'll learn precisely how to:
Avoid making the critical mistakes most people make
Build a network that includes people who actually need your products and services
Attract better clients and close more business
Position yourself as a leading authority in your industry
Get your marketing message to the people who are ready to buy what you're selling
Monitor your results so you can accomplish more and work less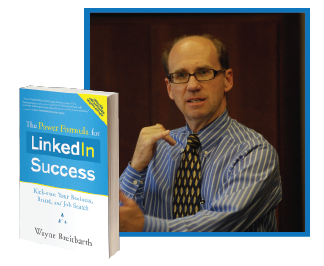 Why learn from Wayne Breitbarth?
Authored the most widely-read LinkedIn book in the world, The Power Formula for LinkedIn Success: Kick-Start Your Business, Brand, and Job Search
Helped more than 50,000 people access the full power of LinkedIn
Conducted more than 700 LinkedIn training sessions
Understands all aspects of business after owning and managing businesses for more than 30 years
Wayne Breitbarth has been featured in:
Here's what business professionals are saying about Wayne:
A massive 42% of the leads I generated in 2013 originated from my LinkedIn activity. That's right, 42%! And I owe much of that success to Wayne and his book "The Power Formula for LinkedIn Success."
— Darrel Griffin
His proven processes give the framework for an immediate jolt to your online branding and marketing… including real world tips that are hidden deep inside LinkedIn's rapidly evolving interface.
— Ned White
He speaks from a point of view that's easy for most to relate to, breaks down and delivers the content and value in a very practical way, and exudes an energy and passion for the topics he's expert in.
— Jason Fordu
He opened our eyes to LinkedIn's unbelievable potential as a sales and marketing tool. Wayne is very entertaining and engaging, and you will be amazed at what you've been missing.
— Craig DuMez
Here's a summary of what you'll get:
My name is Wayne Breitbarth, and I've been helping companies grow their revenues with LinkedIn for years. But now I'm excited to be offering the same advanced strategies and secrets to you in an easy-to-follow online format.
Unlike most LinkedIn courses, which simply show you how to create a great-looking profile, I will also show you how to capitalize on the hidden LinkedIn features that will provide the most dramatic results.
I will guide you step by step through my proven 5-step process for LinkedIn success.
This innovative course includes six specific modules, each of which is divided into bite-sized instructional segments. Learn at the pace that's right for you.
You will receive nearly eight hours of instruction and hands-on exercises and access to the course for one year (including any updates to the course that are made in response to LinkedIn site changes).
BONUS RESOURCES
A digital copy of my bestselling LinkedIn book The Power Formula for LinkedIn Success: Kick-Start Your Business, Brand, and Job Search ($16.95 value, 210 pages)
20 downloadable resources – including tip sheets, worksheets, and checklists – to help you quickly and effectively implement the tactics and strategies you'll learn
My one-of-a-kind Target-to-Appointment Worksheet that will walk you through the process of identifying your targets, analyzing their LinkedIn profile and online activity, and discovering information and relationships that will open the door to getting an appointment AND a leg up on your competitors
But don't just take my word for it. Here's a short clip from one of the actual course modules.
Create a magnetic professional profile that will attract and engage your target audience
You want people to do more than just look at your profile. You want them to Do Something. I'll show you simple profile tweaks that will catapult you to the top of the search rankings AND get your targets to engage with you.
Manage and categorize your network to make your marketing efforts count
Time is money, and you don't want to waste your time promoting what you sell or what you do to people who just don't care. I'll show you little-known tricks to label and sort your connections so you can get your marketing message to the people who are ready to buy what you're selling.

Capitalize on existing relationships to fill your sales funnel with quality leads and drive business growth
Nobody likes being exploited by their friends and business associates. I'm going to show you easy ways to attract better clients, close more sales, and help your network grow their business too.
Expand your network to include high-quality connections who need your products and services
A huge network is great, but you'll be disappointed with your LinkedIn results if you don't have enough of the right people in your network. I'll show you how to turn your connections into dollars by strategically building a network of people who need your products and services AND will be anxious to recommend your goods and services to others.
Communicate with your network and become a dominant authority in your marketplace
Your customers and potential customers have lots of options, so why should they choose you? I'll walk you step by step through the best ways to position yourself as a leading authority in your industry and sprinkle in just the right amount of self-promotion.
Monitor your progress and track results to achieve maximum success with minimal effort
Too many people spend too much time on LinkedIn doing things that aren't generating identifiable business. If something isn't working, move on. But if it's driving results, do more of it! I'll show you how to create a business growth plan and monitor your results so you can accomplish more and work less.
Frequently Asked Questions
If I'm not a salesperson, will I benefit from this course?
Of course. The advanced techniques you will learn in this course can easily be applied to any industry or occupation. If you want to find and be found by the right people or companies and grow your business, this course is for you.
If you're a business owner or marketing professional, the advanced LinkedIn features discussed in this course will help you promote your company and grow your bottom line.
If you work for a nonprofit, you'll learn simple ways to find donors, volunteers, and employees.
If you're a job seeker, the techniques you'll learn will give you a leg up on other people in the job market.
How long will it take to complete the course?
That's up to you and depends on your prior LinkedIn experience. If you listen to all of the training sessions and complete all of the hands-on exercises, it will probably take you about eight hours.
What if I'm not tech savvy?
No problem. The course requires very little prior knowledge. Once you've accessed a module by clicking the link, you'll see easy-to-follow LinkedIn screen shots and hear detailed explanations from me that will guide you through each activity.
How is this program delivered?
It is broken down into short segments within each module. You will watch videos that include pictures of the LinkedIn site, and you'll hear me explain how to use each LinkedIn feature. The 20 bonus resources can be easily downloaded to your computer. Some are worksheets to complete. Others are tip sheets and articles that you can use for reference.
What if I don't like the course?
I offer a 60-day money-back guarantee. There's absolutely no risk on your part.
What if LinkedIn changes its site?
You will have access to the course for one year. I will make periodic updates to the course and resources if LinkedIn makes significant changes to its site.
What if I'm a LinkedIn novice? Will I still benefit from this course?
Definitely. Included with the course is a digital copy of my bestselling book The Power Formula for LinkedIn Success: Kick-Start Your Business, Brand, and Job Search. You can read it before you start the course or refer to it anytime you need more clarification of basic LinkedIn principles.
If you have any further questions, please Contact Me!
How much is this program worth to you and your business?
Need more reasons to buy? WATCH THIS VIDEO
Companies have paid me upwards of $10,000 to share this highly successful 5-step process on site with their sales teams.
But having me travel to your place of business in another state or even another country may be impractical and too costly for you. Plus there's only one of me but people all across the globe who want to quickly and easily explode their revenues with LinkedIn.
Now, with my new online course, you'll feel like I'm standing over your shoulder and personally guiding you through a maze that will lead you to the customers and profits you've been trying to reach.
And it won't cost you $10,000. My comprehensive course (including 20 downloadable bonus resources and a copy of my bestselling book) is available to everyone for the bargain price of only $147.
Most people will recoup their cost with their very first sale after they see how easy it is to turn their newfound LinkedIn knowledge into sales dollars.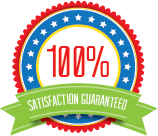 60-Day Money-Back Guarantee
And, of course, I'm so confident in the value you'll receive that I'm offering you a 60-day money-back guarantee.
If you are not completely satisfied with the content of this course, simply contact me via email to receive an immediate 100% refund.