Most LinkedIn users (79% according to my latest LinkedIn user survey) are not paying anything to use the site. That's why most of what I teach in my book, public workshops, corporate training sessions, and personal consultations focuses on becoming a skillful user of the free account.
Here are six simple ways you can capitalize on powerful, hard-to-find LinkedIn features without spending a cent.
1.  Create Search Alerts for Advanced People Searches. This is like having a 24/7 virtual assistant who's always looking for the right people. Once you've completed an Advanced People Search that gives you a list of just the right folks, click the words Create search alert (top right corner).
Then each week LinkedIn will automatically show you new people who meet your defined search criteria. This is absolutely priceless.
2.  Find fellow alumni. It's hard to explain the warm, fuzzy feelings fellow alumni have for each other, but LinkedIn makes it very easy to find and contact your fellow alumni—and many times they'll be quite willing to do business with you.
Type the name of the school you attended in the top search box. Then choose your school when it appears in the drop-down menu. Next, select Alumni. Choose your filter columns or keywords, and LinkedIn magically shows you just the right fellow alums—smiling faces and all. Ka-ching! Learn more about the Alumni feature here.
3.  Add media to your profile. To create a compelling profile, you need to strategically tell your professional story. A simple way to enhance your written story is to add links to important websites and upload media or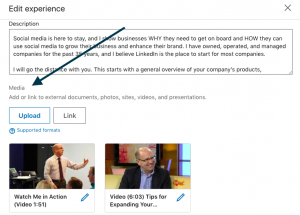 other files.
Click the Media button to add your best stuff to your Summary, Experience, and Education entries. Viewers will then be able to watch, download, and read your most important work samples, company information, personal testimonials and recommendations, and so much more. Learn more about adding media here.
4.  Download your connections database. Who wouldn't want a spreadsheet of their first-level connections' first and last
names, current companies and titles, and the dates you connected with them?
Simply select Me on your top toolbar, and then choose Settings & Privacy. Next, scroll down in the Privacy section, select Download your data, and then check the Connections box. Then click the blue Request archive button. You will then have to enter your password. Within minutes, LinkedIn will send you a file with that information in a helpful spreadsheet.
5.  Send messages to fellow group members. Unless you have a premium account, you cannot send a direct message to people who are outside your first-level network without incurring an InMail fee—with one exception. Each month LinkedIn gives you 15 free direct messages you can send to people who have agreed to accept messages from fellow group members. InMails typically cost $10 each, so this is a $150 gift from LinkedIn.
You can join a group just long enough to send someone a free InMail. From the specific LinkedIn group page, click See all in the top right corner. Then enter the person's name in the Search members box. Next, select the Message button to the right of the person's name.
6.  Search your connections' connections. This is an easy way to look for potential customers, employers, etc. whom your connection can introduce you to. This is like having each of your connection's Rolodex on your computer, phone or tablet, which you can easily filter and search through.
To perform this search, put your cursor in the big, white search box in the top toolbar, and select Search for People from the drop-down menu.
Then select All Filters in the white toolbar that appears. Next, go to the Connections of box and type in your connection's name. Choose his or her name when it appears in the drop-down menu, and then click the blue Apply button.
Now use any of the other filters to narrow the search to people at the right company, location, school attended, title, etc.
There you have it—six features that would certainly be worth paying for, but they're totally free. Thank you, LinkedIn!