How would you like to get your two most important documents or links to your best
digital content (slideshow, video, resume, photos, etc.) in the hands of people in your target audience?
Well, with the brand new LinkedIn profile, it's easy to make that happen.
LinkedIn has done most of the heavy lifting for you, but there are a few simple steps you need to take to fully capitalize on LinkedIn's latest profile changes.
For tips on what kind of content or links to add to your profile, check out my article Here is a Really Easy Way to Spruce Up Your LinkedIn Profile.
.
How has your LinkedIn profile changed?
For several years now you've been able to load media or put web page links in your
LinkedIn Summary, Job Experiences, and Education entries. But since the big profile changes in 2017, the media and links in your Summary have been buried, and the viewer has had to click Show more to get to them. Because most people skim through your profile, your best information hasn't been getting a lot of views.
With LinkedIn's latest profile updates, any media you upload or link to in your Summary section is now displayed with small, thumbnail photos and a short description, encouraging viewers to take a look. Notice how prominent my two documents are now.
. .
How can you take advantage of this change?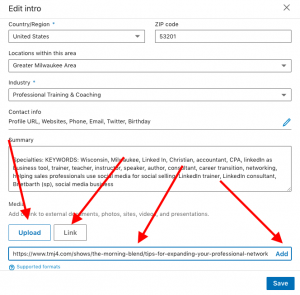 Click the pencil icon to the right of your profile photo and scroll down to Media. To add a link, click the Link box, cut and paste the website URL you want to display, and then click Add. If you want to upload a file from your computer or flash drive, click the Upload box. Once the documents have loaded, revise the short description and then click Save.
I recommend you load two documents, although you can load up to fourteen. Putting just two optimizes the available space with the thumbnail and the description of the document.
You can also include documents below any or all of your Job Experience entries or Education entries, but they probably won't get as many views as the ones in your Summary because of the prominent placement of your Summary.
So, find your two very best pieces of content, and get them loaded right away so your profile viewers get a much fuller picture (pun intended) of who you are and what you do.
--
SPECIAL OFFER
If you'd like help with developing a LinkedIn strategy that will catapult your business and career, take advantage of my limited time offer: a one-hour, one-on-one LinkedIn consultation for just $175 (50% off my regular fee). This offer also includes an in-depth critique of your profile.
I will share my computer screen with you during the call and send you a marked-up copy of your profile prior to the call.
There are limited spots available, so don't delay. Book your session today by clicking here.