If you were one of the nearly 1500 people who took the time to participate in my 2015 LinkedIn user survey, thank you!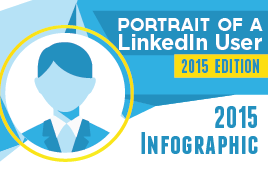 In the next few weeks I will share with you my observations about the results and give you some strategies to help you capitalize on what I've learned.
Let's start with the LinkedIn features people have found to be the most useful.
The number in parentheses is the percentage of respondents who selected the feature when asked, "Which of the following LinkedIn features have you found to be helpful? (check all that apply)"
#1.  Who's Viewed Your Profile (76%)  For the third year in a row, this was the top-rated feature. I have to confess
that I was not taking full advantage of this feature until it won the top spot in the survey. I then started to investigate its importance by talking with users who were getting results. I'm now a believer and have documented results--not from simply checking out who "stalked" me but by reaching out to the people who are in my target audience.
For additional strategies and thoughts on this year's top-rated feature, click here.
#2.  People You May Know (61%)  This is always a great way to find more people to add to your network. This never-ending list
served up to you by LinkedIn brings you people from your past, people in your LinkedIn groups, people in your industry--and who knows what else goes into LinkedIn's secret formula.
This feature is a little hard to find since LinkedIn updated the home page. Hover over the Add connections icon and click People You May Know. Then start looking for people who ought to be in your network. Happy hunting!
#3.  Reviewing profiles before or after meetings (56%)  The more you know about a person before a meeting or phone call, the better prepared you will be--and this step should be standard operating procedure for everyone. To gain the best insight about people before meeting them, check out:
.
How You Are Connected
In Common With
Summary
Current Experience
Education
Interests
I think the day is coming when you say to someone, "Tell me about yourself," and they will look at you and say, "You mean you didn't check out my LinkedIn profile before we got together?"
#4.  Search for companies (48%)  Even though LinkedIn was designed as a database of business professionals,
the company page is a great way to get an overview of a company. Also, if you click # of Employees on LinkedIn, you can see a list of all the folks on LinkedIn. This will help you prepare for your big meeting at the company. It's always good to see who you already know at a company and who your connections know--or, better yet, who you want to get to know. This feature makes it easy to get that done.
#5.  Messaging first-level connections (43%)  Once you connect with someone on LinkedIn, you can direct message him/her through LinkedIn. LinkedIn's research shows that you will have a higher open rate from a message sent within LinkedIn than if you simply use someone's email address. I think the open rate is higher because an affiliation is already established, and the message lands in two email boxes rather than one (their LinkedIn inbox and whatever email service the user's LinkedIn messages are sent to).
This truly deserves to be one of the top-rated features. I hope you are taking full advantage of this.
#6.  Follow companies (41%)  If you click the yellow Follow button on a company page, you will start receiving in your home-page feed the status updates that company shares, including
job openings, new products or services, company events, industry insights, promotions, and lots of other goodies. There is no limit to the number of companies you can follow, and companies do not preapprove their followers.
I suggest you consider following these types of organizations:
.
Current clients
Prospective clients
Competitors
Industry associations or groups
Nonprofits you have an interest in
Your next great employer
#7. Advanced People Searching (39%)  This was the most popular feature for the first few years of my user survey--and in my humble opinion, this is the real power on LinkedIn. After all, LinkedIn is the world's largest database of business professionals, and Advanced People Search is your key to accessing this incomparable database.
To learn how you can capitalize on the Advanced People Search feature, click here.
In the coming weeks, I will share additional insights on the survey results. In the meantime, here is the complete infographic. I hope you'll use the share buttons below to share this important information with your friends and business associates.